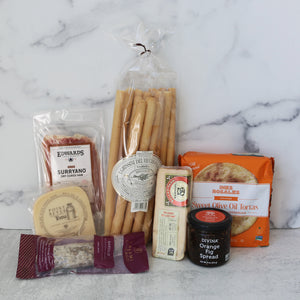 The Italian Stallion Cheese & Charcuterie Kit
Regular price
$71.99
$0.00
Unit price
per
 The Italian Stallion offers a sampling of fine salumi and formaggi, or cured meats and cheeses, made in the Italian tradition by artisan makers. Harnessing old world techniques, superior ingredients, and attention to detail, you can taste the difference that comes from centuries of tradition, skill, and passion. You taste buds will be hollering "Grazie!".
Product Details
Panealba Grissini Breadsticks
Ines Rosales Sweet Olive Oil Tortas
Salumi Chicago, Borolo
Edwards Surryano Ham
Sartori Balsamic Bellavitano
Point Reyes - Toma Original
Divina Orange Fig Spread

Shipping Details

Note: This product is perishable and may require expedited shipping to maintain product integrity depending on the delivery location. Please see our shipping policies for more information.

Refrigerate the meat and cheese upon receipt. 

Serving Recommendations
To experience the full flavor of the cheese, serve at room temperature. For optimal flavor and texture, bring cheeses to room temperature for approximately 1 hour prior to serving.
Serve meats at room temperature or slightly chilled for best flavor.
---