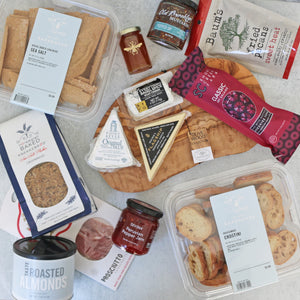 The Full Spread Cheese & Charcuterie Kit
Regular price
$155.99
$0.00
Unit price
per
 A smear of this, a slice of that, all piled onto a crisp cracker for that perfect bite. The Full Spread kit combines sharp, smooth, creamy, and spicy for a tabletop that will delight. Let the flavors of artisanal cheeses and small batch charcuterie take over your taste buds for a transformative experience. Some products featured in this collection:
Beecher's Handmade Cheese, Washington - Flagship Cheddar
Flagship Cheddar exhibits a sweet flavor profile which is uniquely balanced with the nutty and earthy tones usually found in alpine cheese. Its intense sharpness, combined with its hints of brown butter, make it a popular choice among cheese connoisseurs.

LaClare Family Creamery, Wisconsin - Everything Bagel Spice Goat Cheese
LaClare goat milk is sourced from happy, healthy goats that are raised with care. The result is a product that is flavorful, nutritious, and reflects the passion and dedication of the cheesemakers behind it. Their Everything Bagel Goat Cheese is savory and tangy.
Point Reyes Farmstead Cheese Company, California - Original Blue
Point Reyes Original Blue is a classic California blue cheese with a bold flavor, sweet undertones and a tangy, peppery finish.

Product Details
Beecher's Handmade Cheese, Flagship Cheddar
LaClare Everything Bagel Spice Goat Cheese
Point Reyes Original Blue
La Quercia Prosciutto Americano
Short Creek Salami, Classic
Virginia Bee Co. Queen Ann Honey
Divina Peruvian Pepper Jam
Old Brooklyn Mustard, Pepped Up
Baum's Fried Pecans, Sweet Heat
TASTE Sea Salt Roasted Almonds
Knekkebrod Sea Salt Crisp Bread
TASTE Bakehouse Sea Salt Crackers
TASTE Bakehouse Crostini
Olive Wood Cutting Board, 12"
Shipping Details
Note: This product is perishable and may require expedited shipping to maintain product integrity depending on the delivery location. Please see our shipping policies for more information.

Refrigerate the meat and cheese upon receipt. 
Serving Recommendations
To experience the full flavor of the cheese, serve at room temperature. For optimal flavor and texture, bring cheeses to room temperature for approximately 1 hour prior to serving.
Serve meats at room temperature or slightly chilled for best flavor.
---