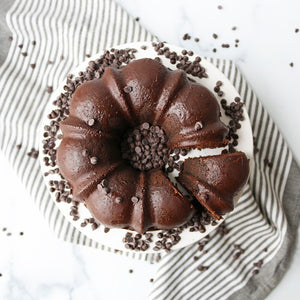 Rowena's Chocolate Pound Cake
Regular price
$41.00
$0.00
Unit price
per
Rowena once said that if a chocolate cake doesn't taste sinful, then it's not a real chocolate cake. So trust us: This is a real chocolate cake. It's dark. It's rich. And if that's not enough for you true chocolate lovers, we've kicked it up a notch with our incredible chocolate glaze. Try a dusting of powdered sugar, or a spoonful of our Raspberry Drizzle.
Product Details
42oz
Because Rowena's cakes do not contain preservatives, we recommend that you use expedited delivery services for deliveries to states west of the Mississippi.
Rowena's cakes are best enjoyed within 5-7 days after receiving them or freeze immediately.
---