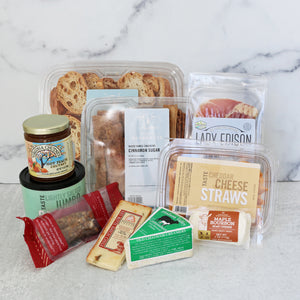 Perfect Pairings Cheese & Charcuterie Kit
Regular price
$99.99
$0.00
Unit price
per
Sweet and spicy, creamy and crispy, salty and rich, the Perfect Pairings Cheese & Charcuterie set offers an exquisite combination of flavor in each bite, allowing you to craft an unforgettable culinary experience. Featuring some of North America's most talented small-scale artisanal food producers. Some of the products featured in this collection:
Beehive Cheese, Utah - Red Butte Hatch Chile Cheddar
Earning 1st place in the 2022 World Cheese Awards, this creamy cheddar is rubbed with New Mexico Hatch Chiles to create in a complex and smoky cheese.

Old Chatham Creamery, New York - Nancy's Hudson Valley Camembert
This Camembert is crafted in the Hudson Valley region of New York using high-quality, locally-sourced milk that is carefully aged to perfection. The cheese has a soft, creamy texture and a bloomy rind that is edible and adds to the overall flavor experience. Its flavor profile is rich and buttery, with a subtle earthiness and a hint of nuttiness.
LaClare Family Creamery, Wisconsin - Maple Bourbon Goat Cheese
LaClare goat milk is sourced from happy, healthy goats that are raised with care. The result is a product that is flavorful, nutritious, and reflects the passion and dedication of the cheesemakers behind it. Their Maple Bourbon Goat Cheese is characterized by the rich, sweet taste of maple syrup and the bold, smoky flavor of bourbon.

Salumi Chicago, Illinois - Sopressata
Crafted in small batches without additional sugars or nitrates, Salumi Chicago's Sopressata is an uncured calabrian chili pepper salami made from heritage pork and seasonings.

Lady Edison Pork, North Carolina - Extra Fancy Country Ham
The Good Food Award-winning country ham is dry-cured, unsmoked and long-aged, following the old traditions of North Carolina country hams. The silky slices are buttery and salty with a robust flavor.


Product Details
Beehive Cheese, Red Butte Hatch Chilie Cheddar
Chatham Creamery, Nancy's Hudson Valley Camembert
LaClare Family Creamery, Maple Bourbon Goat Cheese
Salumi Chicago, Sopressata
Lady Edison Pork, Extra Fancy Country Ham
TASTE Bakehousee Crostini
TASTE Cheddar Cheese Straws
Effie's Oatcake Crackers
Virginia Chutney Company, Hot Peach Chutney
TASTE Cashews
Shipping Details
Note: This product is perishable and may require expedited shipping to maintain product integrity depending on the delivery location. Please see our shipping policies for more information.

Refrigerate the meat and cheese upon receipt. 

Serving Recommendations
To experience the full flavor of the cheese, serve at room temperature. For optimal flavor and texture, bring cheeses to room temperature for approximately 1 hour prior to serving.
Serve meats at room temperature or slightly chilled for best flavor.


---